LISI PRESS – ORIGIN? WHO IS IT SUITABLE FOR?
Cosmetic porcelain teeth are now considered a trend, chosen by many customers for a beautiful smile. During the process, many people want to maximize the protection of their original teeth, for instance, the natural shade, or the clearness. So what kind of porcelain teeth can do that? Is Lisi a great solution? BeDental will help answer your questions.
1. WHAT IS LISI PRESS?  
Lisi Press is a ceramic brand of GC Corporation (Japan) for high-class pressed porcelain, heated up to 8 times, with 0.3 mm of thickness, it has good reflectivity, a natural color and perfect translucency due to the multi-effect fluorescent strips.
This product requires almost no grinding, which means the inner surface is kept intact, therefore this type of porcelain crowns meets the needs of many customers.
2. UNIQUE FEATURES:
High precision: Designed with the most advanced technology, ensuring high precision, suitable for specific objects, Lisi Press has the same structure as your original teeth, due to custom crafted details.

Maximum aesthetic effects: It has a very similar tone to your original teeth. In addition, this type also has various shades for customers to choose from.

High biological compatibility: This is a benign ceramic, so it is absolutely resistant to corrosion and does not cause any reaction to the oral cavity environment. In addition, Lisi porcelain dental restorations help overcome the phenomenon of gingivitis, bad breath, black gum border. Biologically proven compatibility with medical products also over the past 20 years.

High durability: Up to 1400 Mpa. With this type of crowns, you can eat comfortably without worrying about them breaking or chipping, with the same sensitivity as your own teeth.

Enhanced thinness: As a line of high-end product, manufactured with modern technology, Lisi porcelain teeth are much thinner than conventional types, which means your teeth won't need much trimming off for maximum tooth and pulp preservation.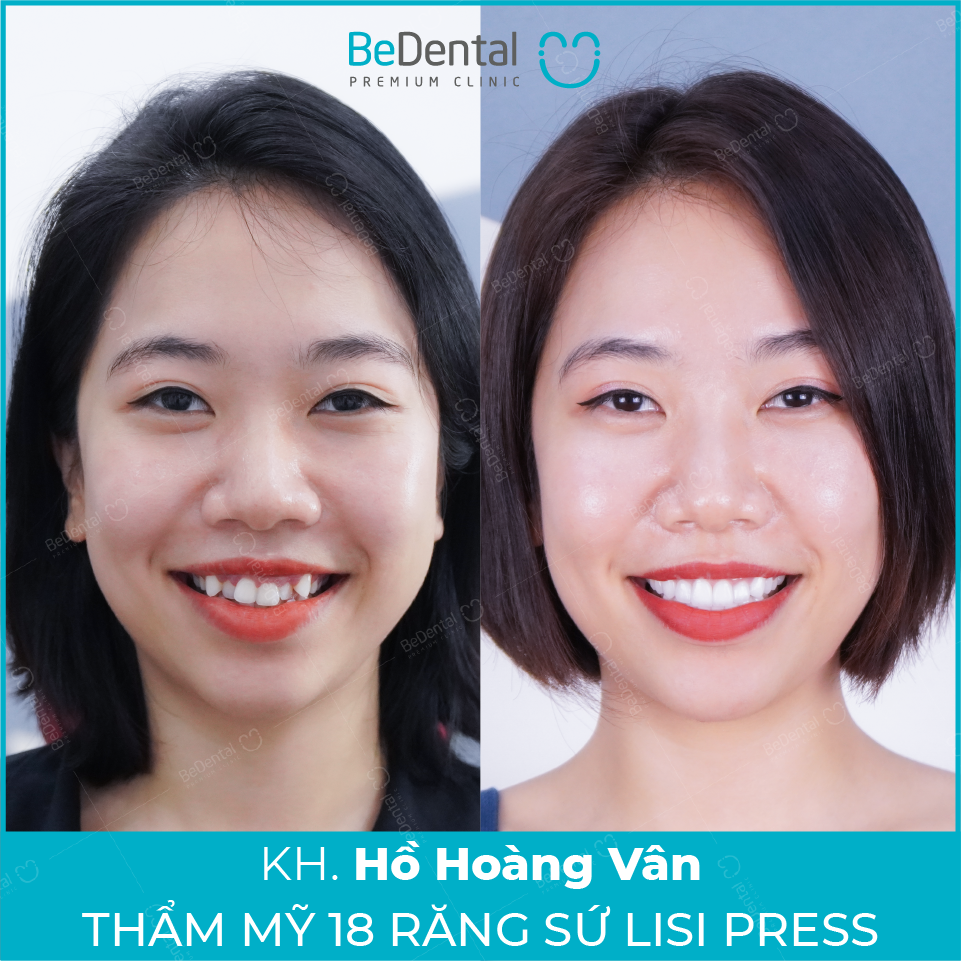 Before and after results of Lisi Press

3. WHO IS LISI PRESS SUITABLE FOR?
Each brand, when launching a product, must possess outstanding advantages, or target specific aesthetic needs of their customers. With Lisi Press, this is the veneer line for those who want a pure, youthful smile.
There are 2 categories: type 1 with 3 – 5 layers and type 2 with 7 – 9 manually coated layers. Both are relatively equivalent using GC's imported products, only with different production techniques.
While type 1 is manufactured with CAD / CAM technology which takes up about 3 days to finish, type 2 takes up to 5 days since it is handcrafted by the best dental technicians.
The outstanding advantage of the manually coated type is the subtle effects. The visible difference is its color transition when entering dark areas, due to the fluorescent gleam which is a characteristic of natural teeth. Every natural property like transmission, reflection, and light refraction can all be seen on each layer.
4. HOW MUCH DOES LISI PRESS COST?
BeDental is a leading dental clinic system, based in two big cities, Hanoi and Ho Chi Minh City. We choose to cooperate directly with large labo centers to bring the most reasonable cost to our customers with long-term warranty.
The price for Lisi Press at BeDental is 10,000,000 VND / tooth and we are now offering an up to 30% discount. Sign up for consultation and receive special offers for Lisi Press here or at our Hotline 0934.61.9090 for the more information.
See more offers here: https://beamdental.com.vn/uu-dai-boc-rang-su/
      HA NOI Branch:
7B Thi Sach, Ngo Thi Nham, Hai Ba Trung, Ha Noi
98C Chien Thang, Van Quan, Ha Dong, Ha Noi
      SAI GON Branch:
56 Nguyen Dinh Chieu, Da Kao, District 1, Ho Chi Minh City
1st Topaz Tower, Saigon Pearl – 92 Nguyen Huu Canh, Binh Thanh District, Ho Chi Minh City