ALL YOU NEED TO KNOW ABOUT CERCON PORCELAIN TEETH
This is the perfect choice for customers who want a high quality product at an affordable price. The following article will introduce you to what you need to know about our Cercon teeth. 
1. WHAT ARE CERCON PORCELAIN TEETH?
Originated in Germany, manufactured through the modern CAD / CAM technology, Cercon is the currently one of the most premium full-porcelain product lines which has completely overcome the shortcomings of metallic porcelain products – natural white color, no gradual discoloration or darkened gum line…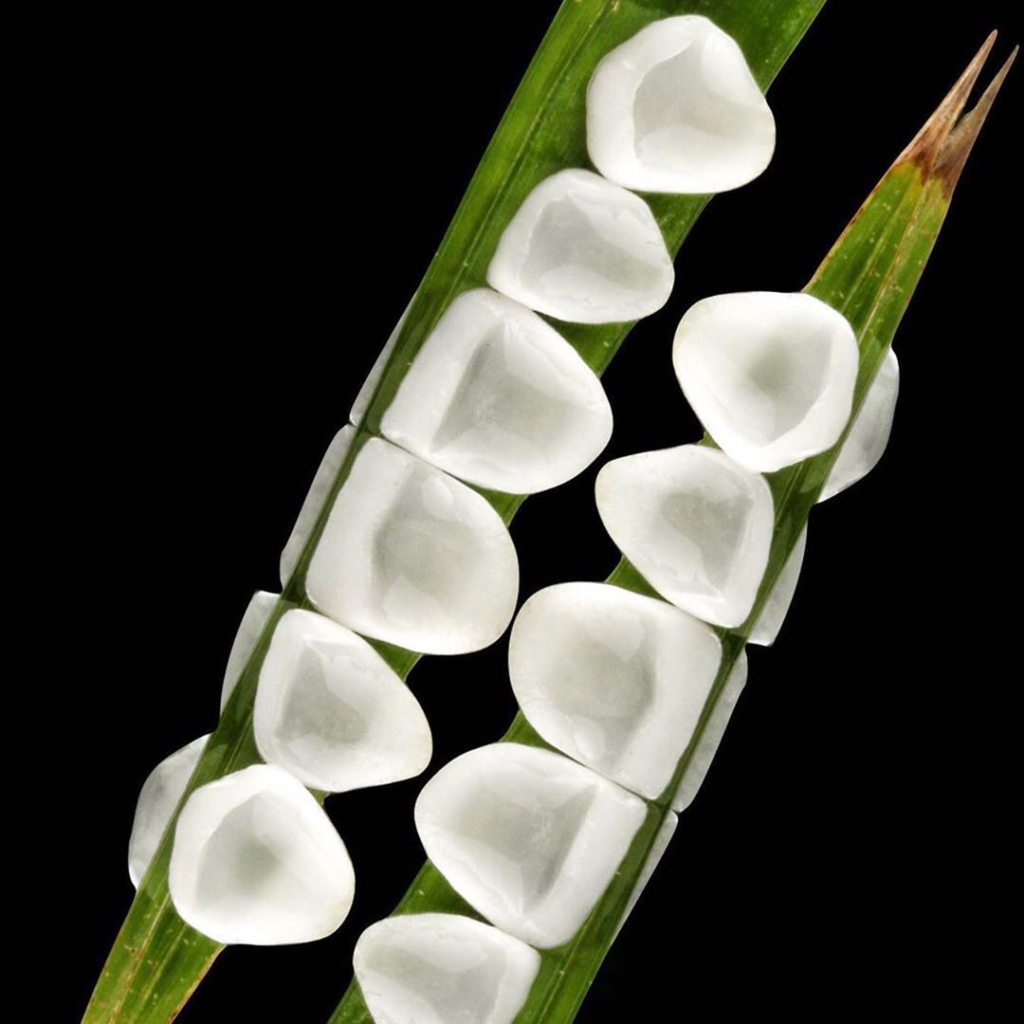 Cercon porcelain teeth
This product consists of 2 parts:
Internal porcelain frame

External layers of porcelain covering the frame, helping it reach a natural color.
2. TYPE OF CERCON PORCELAIN TEETH?
There are 2 types of Cercon porcelain teeth in Germany: Cercon Zirconia and Cercon porcelain teeth. Both types meet the criteria of aesthetic reasons as well as their chewing function.
2.1 Cercon Zirconia 
It has the same structure as Cercon porcelain teeth, along with some outstanding features such as:
High solidity, endurance and durability

Completely benign, does not cause irritation to your gum tissue

Dental abrasion is less likely to occur

No darkened gum line, unlike metallic porcelain teeth.

Easily fits your gum, no stuck-on food bits or bad breath
2.2 Cercon porcelain teeth
If you are still having doubts about the quality of Cercon porcelain teeth, rest assured, because these are considered as a high-quality version of Ceron Zirconia. With more improved features like clearer color, unlike Cercon Zirconia which has more of an opalescent color. Also a great choice for those who want porcelain crowns for their incisors.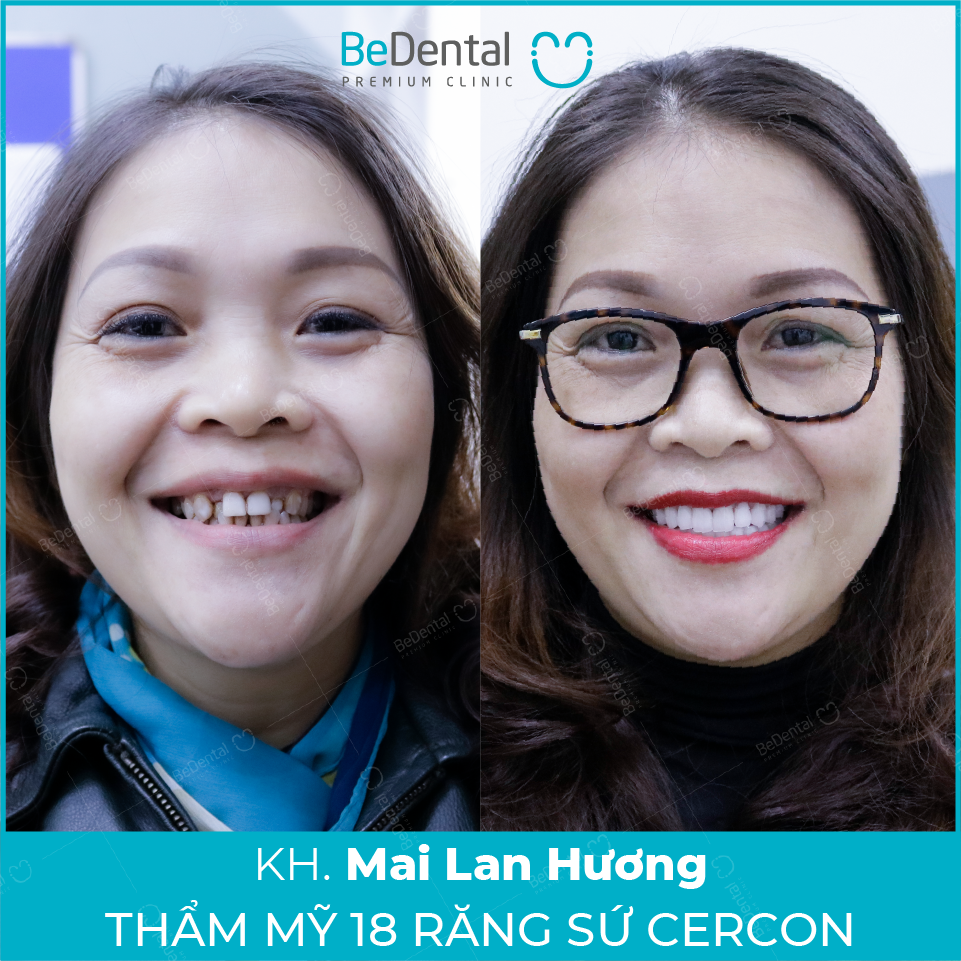 Before and after Cercon porcelain crown at BeDental Dentistry
The endurability of Cercon porcelain teeth is up to 900 Mpa – 4 times harder than your original teeth, more convenient for hard and chewy food.
Its thickness varies only from 0.3mm to 0.5mm, so you don't have to worry about how much your teeth need to be trimmed off when getting them attached – very little, compared to many other types of porcelain teeth, helping to preserve the original teeth as much as possible.
Cercon porcelain teeth are also popular for their good biological compatibility with the body as there will not be any chemical transmutation.
In addition, it also reduces the risks of gingivitis, bad breath and darkened gum line.
3. HOW MUCH ARE THEY?
Here we charge only 7,000,000 VND per tooth, this is considered the average price at reputable dental clinics. In addition, you can also check the price list below for reference.
Depending on your current status and your doctor's consultation, you can choose the most suitable type of porcelain teeth. We do not recommend Cercon porcelain teeth at a surprisingly cheap price, it would thereby affect both your oral health, your teeth's function and your aesthetic results.
So the next question is, are they warranted, and if so, for how long? Here at our clinic, you will receive a warranty card valuing from 7 to 30 years, depending on which type. In particular, for Cercon HT porcelain teeth you have an authentic 10-year warranty.
Besides, you are free to choose your instalment plan through credit cards from various banks such as Vietcombank, Sacombank, VPBank, HSBC,… The installment process is quick and very simple.
4. WHERE CAN YOU GET THE SERVICE ?
Nowadays there are many clinics that offer crowning services, however, having hundreds of such would result in the existence of scams, cheap offers with poor quality services. Therefore, you should consider choosing truly reputable dentists for your porcelain crowns service to avoid complications such as porcelain cracks, gingivitis, periodontitis … due to poor quality porcelain crowns or dentures; or aching, sensitive teeth… as the performance isn't qualified.
Currently, BeDental Dental Clinic is one of the most prestigious names in Hanoi and Ho Chi Minh City, offering great advantages such as:
Free examination, X-Rays and consultation.

Our experienced team with high expertise and thousands of successful operations.

Reasonable treatment fees and explicit procedures.

Separate and sterile treatment system, safe for all customers.

Directly imported dental equipment and materials from Europe.

Cercon HT porcelain teeth imported directly from Germany

Full warranty card for each type of porcelain teeth
REGISTER NOW FOR CONSULTATION FROM YOUR DOCTOR
Please contact us at Hotline 0934.61.9090 for further advice.
See more offers here: https://beamdental.com.vn/uu-dai-boc-rang-su/
      HA NOI Branch:
7B Thi Sach, Ngo Thi Nham, Hai Ba Trung, Ha Noi
98C Chien Thang, Van Quan, Ha Dong, Ha Noi
      SAI GON Branch:
56 Nguyen Dinh Chieu, Da Kao, District 1, Ho Chi Minh City

1st Topaz Tower, Saigon Pearl – 92 Nguyen Huu Canh, Binh Thanh District, Ho Chi Minh City